Mountain restaurant
---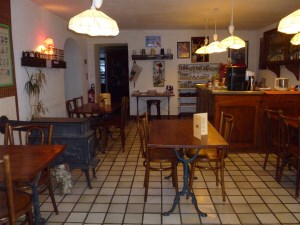 Examples of our menu
Starters
Fresh vegetable cream : 6€
Small Morbier cheese platter : 6€
Large Comté cheese platter : 9€
Chicken and morels terrine on salad : 7 €
Crust of bread topped with morels in cream : 15 €
Smoked Jura trout fillet on salad : 11 €
Other specialties of the Haut-Doubs
Morteau sausage AOC garnished with potatoes and cabbage : 11€
Fondue "comtoise" : 12 € /pers. (minimum 2 pers.).
Cheese warm box, potatoes and salad, : 19 €/pers. (in winter only), 2 persons min.
Cheese raclette, boiled potatos, local cold cuts and salad : 19€/pers. (min. 2 persons)
Platter of mountain cold cuts: green salad, three local cheeses : 14€
large vegetarian dish : 9€
Hot serac cheese with potatoes and salad : 10€
Grilled meat, fresh vegetables of the market : 18€
3 COURSE MARKET AND SEASON MENU : 18 € weekdays, 22€ on weekends

Our specialty :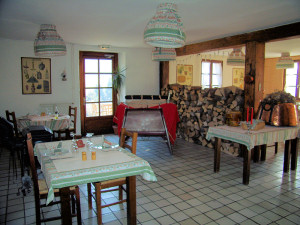 "The herdsman platter" : 10€
A dish of pasta, cream, cooked smoked ham from Haut-Doubs, fresh rattouille and Comté cheese.
If you are in a hurry, our dish of the day: 9€
Children menu : 13€ TTC

Cheeses :
Our restaurant is located on the Comté road, you can enjoy :

a platter of local cheese : 6€
platter 3 local cheeses (Morbier, Comté, Tomme du Jura) : 8€ (oigin: Fruitière of Foncine-le-Haut)
Dessert
Dessert of the day : 5€
Hot chatelaine apples in raw sugar syrup, sorbet and sprinkled with spices : 8€
Candied orange and pine buds sorbet, : 5€
Meringue de Gruyère and double cream : 6€
Assortment of ice creams or sorbets : 5€
Our kitchen follows the produce in the market; some products may not be available.